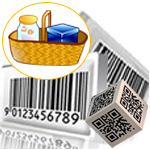 Inventory Control and Retail Business Barcode Label Software
Price: Just $49
Prominently barcode maker software design and create barcode tags, stickers, tickets, flyers, leaflet for labeling barcodes for inventory control and retail business industry. Barcode generator software design barcode images using advance image designing capability. Barcodes generator prints customized and colorful barcode images using advance image printing facility. 2d barcodes can be used in retail industry, retail business and product labeling for tracking inventory details. Inventory control system uses Linear and 2d barcode font's standards to fulfill business specifications needs.
Free download Barcode software to understand the features and functionality of software. Barcode download software is available to test and evaluate barcode systems features and working. Software barcode create and print barcode labels, stickers using advance image designing tools including Text, Line, Arc, Ellipse, Pencil, Rectangle and similar barcode image designing objects. Barcode labeling and printing software prints customized barcode images in different files formats using barcode printer or general printers.
Software Features
Create own style barcode labels for inventory and retail business purpose.
Generate and prints barcode images using image designing objects.
Create bulk barcode labels using standard, constant and sequential series generating options.
Create and design professional barcode labels for business purpose using advanced barcode font, color and size setting.
Print barcodes in different shapes including Rectangle, rounded rectangles and ellipse etc.
Supported Barcode Fonts
Linear Barcode Fonts Codabar, Code 128, Code 128 SET A, Code 128 SET B, Code 128 SET C, Code 39, Code39 Full ASCII, EAN13, EAN8, Industrial 2 of 5, Interleaved 2 of 5, LOGMARS, MSI Plessey, Telepen, UCC/EAN-128, UPCA, UPCE.
2D Barcode Fonts Aztec, Databar, Databar Code 128, Databar Code 128 Set A, Databar Code 128 Set B, Databar Code 128 Set C, Databar Expanded, Databar Limited, Databar Stacked, Databar Stacked Omni, Databar Truncated, Databar EAN 13, Databar EAN 8, Databar UPCA, Databar UPCE, DataMatrix, MaxiCode, PDF417, QR Code.