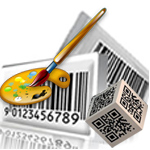 Barcode Label Software - Professional Edition
Price: Just $69
Barcode generator software supports to create best quality barcode labels, tags, stickers without any expert help or technical assistance. Now barcode designing process does not remain the job of experts as user-friendly and simple to operate barcode labeler software provides premium quality solution for easiest label creation process.
Barcode software supports all major Linear and 2d barcode fonts for easy label designing and printing procedure. For better understanding software barcode label creation process with advanced barcode system, simply download barcode trial version. If satisfied with barcode download section, place order to get barcode labeling software full featured licensed version.
Software Features
Design barcode label with use of advance barcodes fonts.
Provide barcode designing view including Line, Ellipse, Pencil, Rectangle, Text, Barcode, Picture and Arc for customized barcode image creation process.
Support general printers and barcode printer for printing designed barcode images.
Generate scanable barcode images with advance barcode systems.
Save designed barcode labels at specific location on your PC.
No expert knowledge required to use barcode labeler software.
Supportive Barcode Font Standards
Linear Barcode Symbologies Codabar, Code 11, Code 128, Code 128 SET A, Code 128 SET B, Code 128 SET C, Code 39, Code 93, Code 39 Full ASCII, EAN13, EAN8, Industrial 2 of 5, Interleaved 2 of 5, ISBN 13, ITF-14, LOGMARS, MSI Plessey, Planet, Postnet, Standard 2 of 5, Telepen, UCC/EAN-128, UPCA, UPCE, USPS Sack Label, USPS Tray Label, USS-93.
2D Barcode Symbologies Aztec, Databar, Databar Code 128, Databar Code 128 Set A, Databar Code 128 Set B, Databar Code 128 Set C, Databar Expanded, Databar Limited, Databar Stacked, Databar Stacked Omni, Databar Truncated, Databar EAN 13, Databar EAN 8, Databar MicroPDF417, Databar PDF417, Databar UPCA, Databar UPCE, DataMatrix, MaxiCode, PDF417, QR Code, MICR Font.