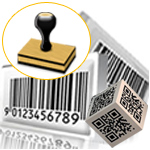 Post Office and Bank Barcode Label Software
Price: Just $49
Simple and easy to operate barcode maker software is useful to design and generate barcode labels with use of applicable Linear and 2D barcode fonts for Postal and Banking industry. Technically advanced and easy to operate barcode generator software supports major Linear and 2d barcodes for best barcode label creation process.
The use of Postal Service and Banking barcode label maker software design colorful barcode labels for labeling Courier mails, Postal mail, Parcels, Courier post mailer bags and other similar Post Office and banking barcode labeling documents in simplified and easiest way.
Salient Software Features
Easy and simple process to design and generate barcode labels for post – office and Bank barcode labeling needs.
Generate barcode label in bulk numbers with available barcode list generation series in simplified way.
Supports major barcode fonts including Linear and 2D barcodes fonts.
Simple and easy to operate software barcode label creation process.
Easily prints barcode images with use of barcode printers or normal printers.
Barcode download section is available to easily understand barcode labeling software features and working. If satisfied with barcode labeler program, place order to get fully featured barcode system developed software at affordable price.
Supported Barcode Fonts
Linear Barcode Fonts Code 11, Code 128, Code 128 SET A, Code 128 SET B, Code 128 SET C, Code 39, Code 93, Code39 Full ASCII, ITF-14, LOGMARS, Planet, Postnet, USPS Sack Label, USPS Tray Label, USS-93.
2D Barcode Fonts MaxiCode, MICR.