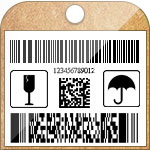 Barcode Label Software - Standard Edition
Price: Just $59
Easily save generated barcode images in variety of file formats including jpeg, tiff, bmp, png, wmf, emf, exif and gif on your PC. Barcode labeler software standard edition is useful to design and generate barcode labels, images and tags for best quality and high-resolution barcode label creation process. Barcode software supports all major Linear and 2D barcode fonts for advanced barcode label creation process without any expert help or assistance.
Barcode maker software provides advance print facility for printing designed barcode images with advance barcode systems developed software. Similarly scan designed barcode images with barcode scanners for scanning designed barcode images.
Barcode Label Maker Software Features
Best quality and fully featured barcode labeling software to design barcode labels.
Create barcode images in Linear and 2d barcodes fonts.
Flexible option to print designed barcode images in easiest way with support to barcode printer or general printer.
No expert guidance or special training required to operate the barcode generator software.
Barcode Download Facility
Download barcode software free trial version to easily understand barcode labeling features and working capabilities. If satisfied with barcode software, place order for software barcode label creation process with best barcode system.
Supportive Barcode Font Standards
Linear Barcode Symbologies Codabar, Code 11, Code 128, Code 128 SET A, Code 128 SET B, Code 128 SET C, Code 39, Code 93, Code 39 Full ASCII, EAN13, EAN8, Industrial 2 of 5, Interleaved 2 of 5, ISBN 13, ITF-14, LOGMARS, MSI Plessey, Planet, Postnet, Standard 2 of 5, Telepen, UCC/EAN-128, UPCA, UPCE, USPS Sack Label, USPS Tray Label, USS-93.
2D Barcode Symbologies Aztec, Databar, Databar Code 128, Databar Code 128 Set A, Databar Code 128 Set B, Databar Code 128 Set C, Databar Expanded, Databar Limited, Databar Stacked, Databar Stacked Omni, Databar Truncated, Databar EAN 13, Databar EAN 8, Databar MicroPDF417, Databar PDF417, Databar UPCA, Databar UPCE, DataMatrix, MaxiCode, PDF417, QR Code, MICR Font.