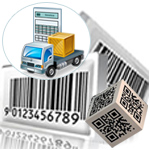 Packaging, Supply & Distribution Industry Barcode Label Software
Price: Just $49
Packaging Supply and Distribution Industry Barcodes can be designed with use of rich featured barcode generator software in simplified and easiest way. Barcode maker software does not require any special technical skills and provides best solution for easy barcode label creation process without any expert advice or help required. Packaging Supply Distribution barcode software design barcode labels with applicable linear and 2d barcode with easy barcode label creation process.
Extreme quality barcode labeling software with featured rich image designing functions including Line, Ellipse, Pencil, Rectangle, Text, Barcode, Picture and Arc objects create most amazing and business friendly barcode images used by packaging industry for labeling Parcels and Luggage, Shipping materials in less time and efforts.
Software Features
Option to create labels in linear and 2d barcodes.
Barcodes generator software design barcode images with use of available image designing tools in simplified way.
Supports major barcode printer to print designed barcode images along with advance print settings.
Barcode labeler software save designed barcode images in variety of file format on your PC.
Software designed with advanced barcode systems for superior quality label creation process in few simple and easy label creation steps.
Barcode download section for barcode labeling software free evaluation process.
Download barcode software free trial version to easily understand barcode labeling features and working capabilities. If satisfied with barcode system, place order for software barcode label creation process.
Supported barcode fonts
Linear Barcode Fonts Codabar, Code 128, Code 128 SET A, Code 128 SET B, Code 128 SET C, Code 39, Code 93, Code39 Full ASCII, EAN13, EAN8, Industrial 2 of 5, Interleaved 2 of 5, ITF-14, LOGMARS, UCC/EAN-128, UPCA, UPCE, USS-93 Font.
2D Barcode Fonts Aztec, Databar, Databar Expanded, DataMatrix, MaxiCode, PDF417, QR Code.