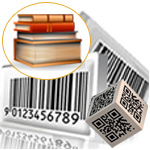 Publishers and Library Barcode Label Software
Price: Just $49
Barcode maker and label designing software creates customized book barcode labels and library barcode labels for labeling book publishing industry. Barcode generator software provides the complete solution to create labels for labeling Books, Audio, Video, CD and DVD as well as labeling book for publishing industry. Barcodes generator program helps Publishing Company to design customized barcode images and prints for labeling libraries books. Barcode software designs and prints colorful barcode images using barcode color settings. Software barcode prints bulk barcodes using barcode list generating options including sequential, random and constant series. Barcode system creates own style barcode label using linear and 2d barcodes fonts standard.
Barcode labeling software creates multiple copies of barcodes that are useful for publishers for tracking the details for book publishing industry, library system. Barcode label maker software provides the option to modify created barcode labels using linear and 2d barcode fonts, sizes and color settings.
Advantage of Barcode Software
Barcode software design barcode labels using linear and 2d barcode fonts standards.
Prints custom made barcode images using image designing functionality on desktop using general printer and barcode printer.
Download barcode generator software along with barcode system is used to better understand the working process to create own style barcode labels.
Free trial demo of barcode download software to design and create barcode labels in simplest way for novice users and expert users.
Barcode labeler software designs barcode images on different graphical file formats including jpeg, bmp, png, tiff and similar file formats.
Barcode software using barcode system to generate barcode labels with option to specify Barcode Value, Barcode Header and Barcode Footer details.
Supported Barcode Fonts
Linear Barcode Fonts Coda bar, Code 11, EAN 13, EAN 8, Industrial 2 of 5, ISBN 13, Telepen, UPCA, UPCE.
2D Barcode Fonts Databar, Databar Limited, PDF417.