Freeware Video Reverser Software
DRPU Free Video Reverser Software is one of the best applications to reverse your videos of any size and format. Application is capable to give quick results in less possible time. With the help of this software user is able to reverse any small portion of a video. As we know, use of social media is increasing day by day thus, People use this software at greater extent to post reversed videos on social media. Video Editing Tool provides facility to add custom sounds to any video. This Program is capable to reverse all the formats of videos including MPG, MTS, MP4, MOV and many more. Application holds Graphical user Interface so that it can be used by everyone even without having professional and technical skills. If you want to learn an easiest way to reverse videos then, follow the steps mentioned below.
Steps tp Reverse Video :-
STEP 1 BROWSE THE EXCEL FILE OF VIDEOS FROM YOUR SYSTEM : Browse button to fetch the location of a file of videos to be reversed.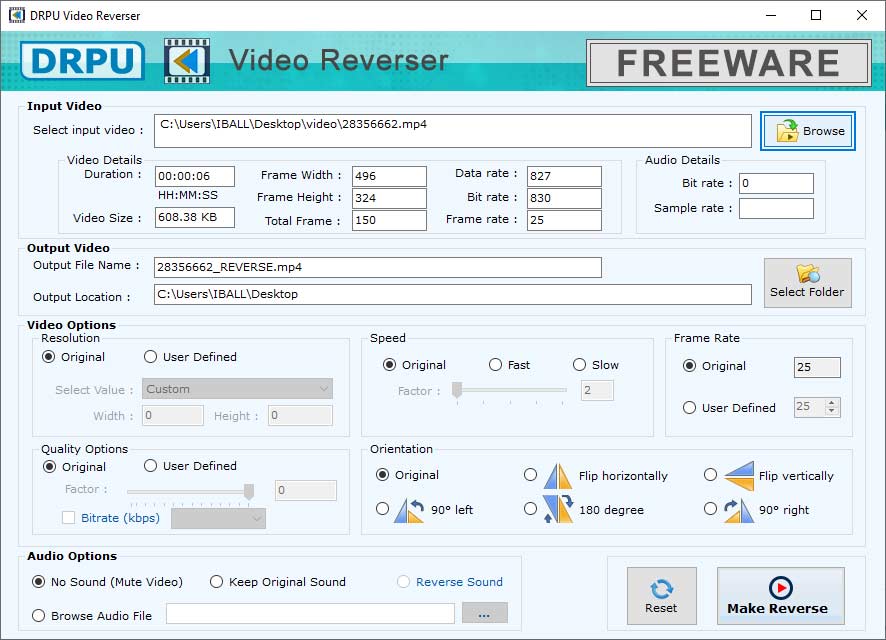 STEP 2 SET THE PROPERTIES FOR A VIDEO BY USING AUDIO AND VIDEO OPTION : set the Resolution, Quality Option and Frame Rate of a Video. All three properties can be set as original or also can be defined by user itself.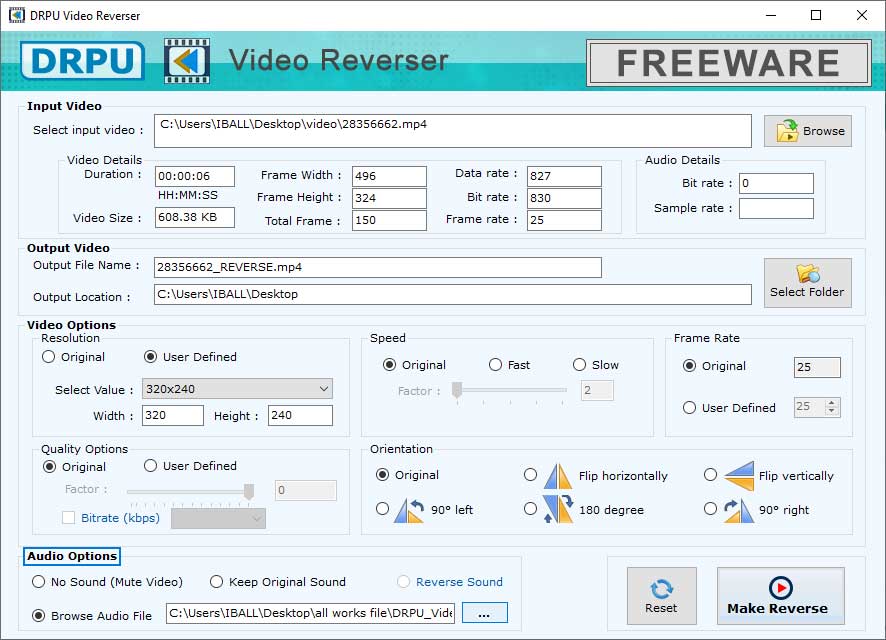 STEP 3 REVERSE THE VIDEO : on selecting all the properties of video. Click on Make Reverse Button to start the Reversing Process.
Why to Choose Us:-
Video Editing Tool provides facility to mute a video.
Several Orientations of a video are provided by the Software.
Free Video Reversing Application is capable to reverse the sound of any video.
Anyone can use this software because of its Open-Source nature.
Tool allows you to reverse multiple videos at a time by browsing Excel File.
Software is less time consuming in nature.
Download Video Clip Reversing Software is free of cost so that each and every person can use this software freely and independently.
Download Free Video Reverser Software
[ 100% FREEWARE ]